The Heroin & Fentanyl Epidemic
Nov. 15, 2022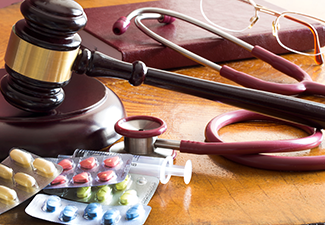 When you read the news these days, it seems like there's been a meteoric rise in the number of overdoses and deaths due to heroin and fentanyl. Sadly, the heroin and fentanyl epidemic is a very real problem that plays a huge part in the criminal justice system, especially regarding a drug-induced homicide charge. If you're facing a serious criminal charge in connection with a drug overdose, you need to speak with a criminal defense attorney who understands how this changing landscape may affect your outcomes.
If you're in the Batavia, Ohio, area or anywhere nearby, including Batavia, Clermont, Hamilton, Brown, and Warren counties, call Douglas A. Ball Attorney at Law for legal guidance you can trust.
Overview of the Heroin and Fentanyl Problem in Ohio
The fentanyl and heroin epidemic is wreaking havoc throughout the United States and Ohio is no exception. Throughout the last decade, there's been a marked increase in the amount of illegally manufactured fentanyl which has directly contributed to an increase in drug distribution, trafficking, and deaths. Fentanyl is roughly 50 to 100 times more potent than morphine and it's also cheaper to make. Many illegal drug manufacturers and sellers will also cut fentanyl into other street drugs such as heroin, methamphetamine, and cocaine and it can be very difficult to gauge the strength of each dose. This means more and more unsuspecting users are taking fentanyl in lethal doses.
Even though this is a widespread and well-known problem, it can be hard to pinpoint the most effective way to effectively combat it. Many people facing charges related to these drugs and overdose deaths are concerned about the consequences that await them. However, just because you were arrested for a homicide charge in connection with a drug overdose doesn't mean you'll necessarily be convicted of it or that you'll see the full range of penalties.
Charges Against Drug Distribution Companies
In some of these cases, charges can be brought against drug distribution companies. Most of the existing charges like this are at the federal level, but as the epidemic worsens, lawmakers and prosecutors are targeting these large companies and attempting to hold them accountable. Even though many of the overdose deaths are due to illegally produced drugs, there are still a lot of prescription drugs being circulated on the streets and many people blame the lax distribution process on pharmacies.
Charges Against Doctors
In other cases, it may be possible to shift some of the blame on the doctors who are over-prescribing these addictive painkillers, though this approach has its own issues to contend with. On one hand, some doctors do rely too much on these dangerous medications and may injudiciously prescribe them to patients which can lead to addiction and potential death. On the other hand, many patients legitimately do need these drugs and even if a doctor is well-meaning, they ultimately don't have control over what happens with these drugs after they've been picked up by the patient and critics wonder if they should really be held liable.
Charges Against Dealers/Providers of Drugs
Finally, there could be charges against those who deal the drugs or those who provide them to individuals who later overdose. This is by far the largest category of people who are tried for these crimes and many proponents of criminal justice reform believe this is both unfair and does little to solve the larger problem. However, it's still the reality that many people face.
When overdoses do occur and law enforcement investigates, they will often first seek out the dealer or person who supplied them with the drugs. In some cases, this could lead to a large-scale distributor, but in others, it only leads to an individual who had no ill intentions or reason to harm anyone, but was simply caught in the wrong place at the wrong time. If you've found yourself in a situation like this, it's essential you seek out an experienced and determined attorney who can thoroughly explain your options and help you build the best defense possible to minimize your penalties.
A conviction for this type of crime comes with serious consequences and you need to do everything you can to protect yourself and your rights. All too often good people who simply made a mistake can find themselves wrapped up in charges like this—but that does not mean you should be treated like a criminal.
A Criminal Defense Attorney You Can Trust
There's no question that something needs to be done about the recent surge in heroin and fentanyl entering this country. Unfortunately, until we come up with a more comprehensive and compassionate approach, regular people will continue to see the brunt of the legal efforts to curtail it. If you're facing a criminal charge that's connected to an overdose, reach out to the legal team at Douglas A. Ball Attorney at Law in Batavia, Ohio, for help.